Trail Guides
Connect and move from aspiration to action
Trail Guides is a program for women to own their path through life as part of a small, intentionally selected group of women.
Through a combination of 'me' and 'we' activities supported by OwnTrail's data insights, you'll reflect, imagine, aspire and take action in the company of an inclusive facilitated cohort. Trail Guides is intentionally designed to create an inclusive, safe space to be authentic, vulnerable and brave.
Trail Guides
Trail Guides
New cohorts of 6-8 women start each month. Sign up below to join an upcoming cycle!
$320
for entire 4-month program
Gift Trail Guides
Give an invaluable experience for a woman in your life — the connections, support and insights she'll gain will serve for well beyond the four month program!
In this program, you will:
done

Define/redefine your personal narrative

done

Free yourself from the limitations of "one right path" thinking

done

Articulate and make progress toward your next milestones in life

done

Connect with women with shared experiences and meaningful differences

done

Gain support in achieving your aspirations
Corporate Reimbursement
Interested in having your employer reimburse you for participating in Trail Guides? Share this to help convince them to invest in your professional development!
The world needs more you
Unlock a new level of trailblazing
The only way to have the impact you want on the world is to fully own your journey.  Trail Guides gives you the tools, confidence and connection to take blazing your own trail to the next level.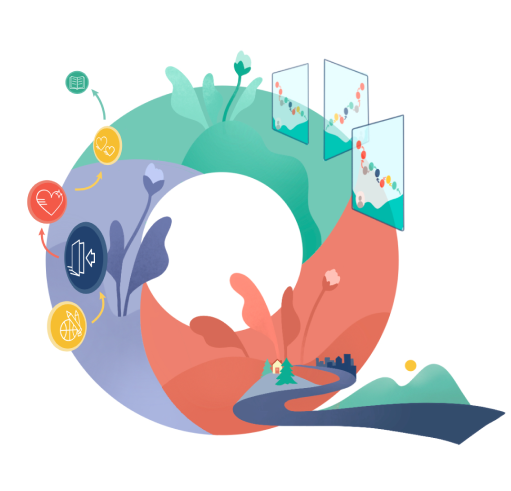 How it works
Trail Guides is ideal for women navigating transition either personally, professionally or both. Complete the short application (you'll need the link to your OwnTrail trail handy). We'll create cohorts of 6-8 based on data insights from your trails, and notify you via email when you've been placed in a cohort. Once placed in a cohort, you'll participate in one individual or group activity per week, facilitated by a member of the OwnTrail team.
Each cohort participant receives a Trail Guide workbook, curated peer cohort, weekly activities and/or facilitated group calls, a dedicated cohort Slack channel and direct access to the OwnTrail team.
Payment will be collected upon acceptance into a cohort; no refunds will be issued once the program begins out of respect the time and monetary commitment of your fellow participants.